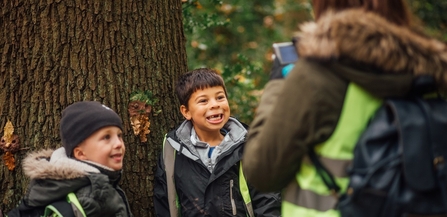 By Nature Friendly Schools Project Manager, Jenny Teague
Nature Friendly Schools is officially back up and running after our pause during the COVID-19 lock-down, and we can't wait to get back to supporting schools on the ground! 
As we all take our first, tentative steps out of lock-down, it's more apparent than ever just how important the natural world is to our physical and mental wellbeing. Simple acts of nature connection every day play a critical role in maintaining the health of our minds and bodies, and this project stands ready once again to provide inspirational guidance and training to help schools transform into nature friendly spaces.
As the flagship project of the DfE-funded Children in Nature Programme, our focus is to build outdoor learning capacity and legacy in schools, through bespoke training and development alongside practical interventions such as greening school grounds, off-site visits and residentials. We want to provide a legacy of outdoor learning in schools that supports and promotes positive mental health and wellbeing across the whole school community, long after the project has concluded. 
What sets us apart is our specialism in coaching and facilitation, combining practical interventions in schools with tailored teacher training will ensure schools are equipped to take their nature friendly journey forwards once we take a step back. Recent figures show one in 10 children do not regularly spend time outdoors. With the help of our ten incredible partners; YoungMinds, Groundwork UK, Field Studies Council, Sensory Trust and six regional Wildlife Trusts, Nature Friendly Schools will support schools to embed two hours of nature-connectivity every week. 
Like everyone, we've adapted to work within the COVID-19 context, and in doing so have made some exciting changes to the way our project will work with schools. We will be providing, for the first time, a 'Nature Friendly Team Around the School' – a trio of experts in outdoor learning, mental health and wellbeing and a 'share, learn, improve' coordinator. Together, the team will work with each individual school on their identified barriers and concerns, providing safe and natural spaces for pupils to build resilience and coping strategies as well as developing social skills, fostering interests and supporting children to find places of calm. 
We recognise that the last few months have been uniquely challenging and frightening for many children and young people, and nature has a big part to play in their recovery. In response, we are blending trauma-informed approaches with our provision of outdoor learning, to support and encourage pupils to safely process mental health and wellbeing barriers within the Nature Friendly Schools project. 
To maximise the impact of the project, we will regularly share our stories and progress through our website. Schools and parents will have open access to all of our tested resources and activities, to help spread the positive benefits of being close to nature as far as possible.