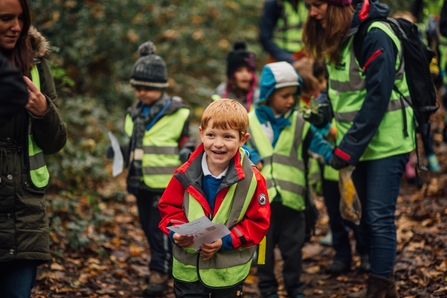 By Nature Friendly Schools Project Manager, Jenny Teague
Autumn is, for many of us, the most beautiful and expressive time of year as nature starts to tuck itself up for the winter months. It's also a time of transition and transformation, a powerful metaphor to help young people process and recognise their feelings and experiences. Leaves falling from trees signifies the shedding of what has past, planting seeds and bulbs represents looking ahead to what is to come. 
Autumn is a feast for the outdoor classroom, from leaf identification amongst a firework display of colours and shapes, exploring the life-cycle of plants and invertebrates as the ladybird and butterfly find a cosy spot for the colder months and with a good layer of warm clothes the weather is kind enough for moving lessons outside where creativity can abound in the beauty of the changing season.
There has been some insightful research conducted over the summer by Natural England – "The People and Nature Survey", exploring the impact of COVID-19 on the lives of young people and their ability to connect with the natural world. The headline findings suggest that in addition to 83% of children agreeing that being in nature made them feel "very happy", 60% have spent less time outside than before COVID-19. Extrapolating this data could indicate that over half of children in England are spending less time in, and feeling connected to, nature.
We must take the opportunity whilst schools remain open during this period of lock-down to create safe havens for children, rich in nature and space to learn and play in different ways. Using the outdoor classroom empowers young people to explore different facets of their personality and skills, leading to opportunities to sense achievement and pride in their work. Experiencing positivity and accomplishment is needed more than ever as we face the challenges of the coming winter.   
This year, outdoor learning holds an additional benefit to teachers and young people. Getting pupils outside is a safer alternative to days spent in hot, stuffy classrooms and we hope our Nature Friendly schools will maximise the opportunity to get out in the fresh air.
Nature Friendly Schools remains 'live' and using the latest Government advice is able to operate safely and in a COVID-secure way to help you to become 'Nature Friendly' schools and harness the benefits of the outdoors.