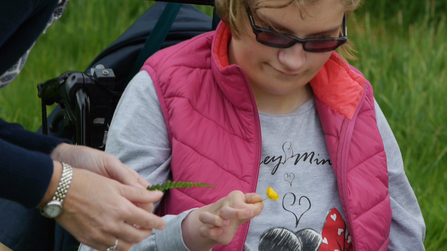 Sensory Trust is a leading authority on inclusive and sensory design. We use nature and the outdoors to improve the health and wellbeing of people living with disability and health issues, their families and carers. We work throughout the UK, and share our approaches internationally with a wide network of organisations and individuals.
Our aim is to make the outdoors accessible and enjoyable for all people, regardless of age, ability or social circumstance. Our work benefits young and older people, and people living with ill health or disabilities, together with their families and carers. For over 25 years we've been cultivating an organisation that bridges disciplines, responds quickly to emerging trends, and remains focused on action. We're proud to be custodians of such a positive and creative organisation.
Sensory Trust brings its specialism of working with young people with disabilities, impairments, behavioural and emotional and mental health to the Nature Friendly Schools partnership. We are experienced in working with young people in special school settings and have a proven track record of delivering activities and events to strengthen connections to nature and support wellbeing. 
Everything the Sensory Trust does is aimed at supporting a positive experience in the outdoors to promote wellbeing, overcoming the challenges often faced by people with additional needs. We believe it is important to foster a good relationship with nature and the outdoors from an early age and being part of this project helps support that. Working with a range of special schools and young people of all abilities requires us to tailor the activities for different settings. 
As a small but national organisation we have always strongly believed in the power of partnerships. We see the Nature Friendly Schools project as a great opportunity to work with like-minded organisations enabling greater impact from the work we do.