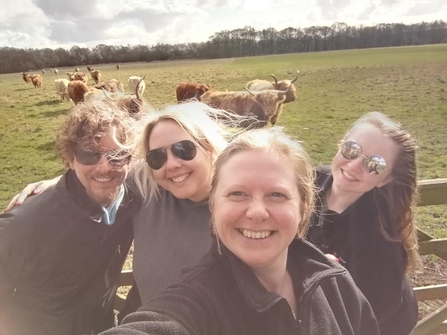 Hello! We are Sara, Alex, Andy and Kat and we are the Nature Friendly Schools Team at Yorkshire Wildlife Trust.
Between us we have over 35 years of experience of working with schools and in the environmental sector and have covered nearly every role, starting at class teacher to inspiring people officer. We also have a real array of skills between us; from fungi expert to allotment connoisseur, so we've got most things covered. 
Our portfolio of 84 schools covers the whole of Yorkshire. We are so excited to support and inspire these schools through their Nature Friendly Schools journey. All four of us are passionate advocates for outdoor learning and the benefits this brings not only to young people but also to school staff, whether this is improving mental and health and wellbeing or their engagement with school. We are also dedicated to building the confidence in teachers and young people to access outdoor learning and help them to love wildlife and the environment.
Working for Yorkshire Wildlife Trust gives us access to some amazing expertise and skills as well as beautiful wild places that we can utilise. We are so lucky to have colleagues that will support us to create wild spaces in school grounds such as beautiful wildflower meadows for pollinators and people to frolic in, as well as sharing their knowledge such as bird song identification! 
Watch this space for our future Nature Friendly Schools adventures!