Over the next six months, overnight residentials will be an integral part of the Nature Friendly Schools experience for over 800 pupils. Residentials not only give pupils space to think and reflect, they also allow pupils to demonstrate and test new and hidden social skills in an outdoor location, benefitting mental health and wellbeing across all school types.
Allowing every child to experience a night under the stars in a national landscape is a fundamental recommendation of the DEFRA Landscapes Review (2019). The Learning Away Evaluation Report (2015) also found that residentials had positive impacts on pupils' engagement with learning and concentration, particularly those who struggle in a traditional classroom setting. This is why overnight residentials are an important part of the Nature Friendly Schools project and a route we are extremely pleased has been selected by so many schools.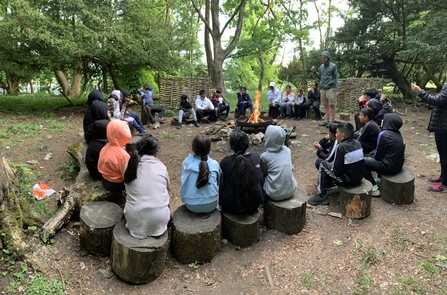 Greenbank Primary School in Rochdale is no stranger to residential trips. From year three to year six, the school hosts its own outdoor activity residentials progressing from one to four days. This made the school perfectly placed to undertake the very first Nature Friendly Schools residential trip at FSC's Malham Tarn site in the Yorkshire Dales.
Greenbank Primary School is privileged to have a dedicated outdoor learning team, including Steve Heffernan, who champions the importance of access to nature as part of his pupils' education. He explains why he thought it was so important that his pupils undertook a Nature Friendly Schools residential: "Although as a school we are experienced in residentials, we have never experienced one led by an external provider like FSC so this was new to us. When we explained this to Sam from FSC he made sure the residential was tailored to our current theme of rivers and mountains.
"When we told our pupils and parents about the residential we didn't know what to expect. These were year five pupils who had never been on a residential before. They should have experienced a residential in year three and again in year four, but due to Covid-19 they missed out so this trip was perfectly timed for us. We needn't have worried though, parents were really supportive and, in the end, the residential was oversubscribed. The pupils were really excited, there was no apprehension or worries, which was great."
The first day of the residential focussed on teamwork and building social skills through a series of challenges which required pupils to work together in small groups, support each other and consider their communication skills. During the evening they enjoyed a campfire in the woods with stories, games and the opportunity to safely practice fire lighting. Pupils were given the opportunity to reflect on the long, exciting and busy day they'd experienced. The second day focussed on rivers and mountains and included a walk around Malham Tarn in the beautiful morning sunshine looking at the landscape from different perspectives and scales. Pupils were able to experience some of the local farm animals and immerse themselves in the unique location. 
The programme of activities was focussed on developing social skills and teamwork, encouraging adventurous play, fostering interests, improving problem solving, supporting children to have fun and supporting them to find places of calm.
Mr Heffernan added: "The residential definitely helped to support those in greatest need, especially with their mental health and wellbeing. They have been cooped up indoors for so long now, so to have the freedom to be outside and enjoy somewhere like the Yorkshire Dales was brilliant. It helped to increase access to nature among pupils, some of them don't have many opportunities to do things like this. 
"One thing that stood out to me was the pupils' behaviour. These pupils had never been on a residential before and didn't know the rules, but they were really well behaved. It was all very positive. It was great to see all pupils getting involved and chipping in, They were fully engaged in all of the activities, more so than when they are inside. It couldn't have been better.
"I would encourage other schools to take up the opportunity of residentials if they can. If they are a bit nervous, speak to the residential provider. Looking at it collaboratively is definitely the best way forward."
The residential was such a success that Greenbank Primary School is now considering undertaking similar curriculum-linked residentials in the future.
More than 30 schools will undertake residential trips as part of Nature Friendly Schools in coming months, including primary schools, secondary schools and special schools.