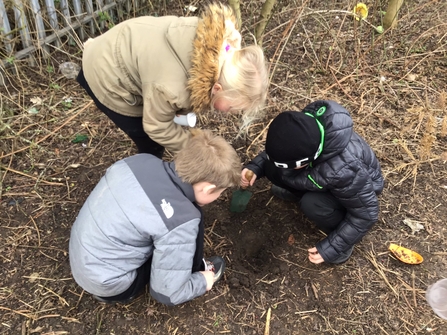 As pupils across the country return to schools this month, Mark Hemmerman, year 4 teacher at Stockwell Academy in Hull reflects upon his time as one of the first schools to sign up to Nature Friendly Schools in 2019 and the transformational results he is seeing in pupils' attainment and behaviour...
"It feels like a mix of a long and short time ago when we were looking at the planning stages of transforming the school grounds with Nature Friendly Schools. Our Education Officer Andy Steele and his team from Yorkshire Wildlife Trust gave me the best possible start to leading outdoor learning at Stockwell Academy and I am confident that we can continue to build on what we have done so far this year.
Starting in the autumn 2019 term, we set out an idea for a visual impact for the school, to show staff and children that changes are happening. We considered how to also make these changes sustainable and how to spend an incredible grant for long term gains. Over the half term, the grounds had a makeover and are now in full bloom and our bug hotel even attracted some bees later on in the year. We just managed to get the tunnel in the treeline at the back of the grounds thanks to Andy and his team and my class made some natural Christmas baubles, some of which can still be seen on our Outdoor Learning Display.
The Covid19 national lockdown in 2020 was a good time for me to reflect on outdoor learning and the impact that it was having on some of my pupils. The silver lining that I took from my missing pupils was the fact that all of them missed school and they all missed outdoor learning, so much so that one pupil made a den in her own garden. Towards the end of spring 2020 we managed to deliver a day of tree planting, again with the assistance of Andy from Nature Friendly Schools, which was an overwhelming success.
The impact of Covid19 and the national lockdown on my pupils who hardly engaged, or did not engage, with online learning and paper packs was negative on their progress and attainment for the spring term. I'm happy to say that this was addressed in the summer term which brought about a whirlwind of things to do! We saw a series of dens pop up in our treeline, together with our long-awaited outdoor learning classroom and outdoor learning days. The latter proved to be very popular and we all shared a moment where we saw all the children outside, enjoying the school grounds, fresh air and sunshine. My attendance data for the spring/summer term was extremely encouraging. I found that my most attended days were Wednesdays and Thursdays - which were the days I ran outdoor forest school sessions on!"
"To demonstrate the impact of Nature Friendly Schools and outdoor learning, I'd like to focus on one particular pupil. At the start of the year, in my second week, they had been in trouble outside of school and by Christmas were still showing signs of immaturity. I made a calculated decision to prevent them from using a hand drill and decided to focus on the pupil's maturity and academic attainment. I spoke to them about why I had prevented them from using the tool and we discussed how this wouldn't be forever and how they could demonstrate that they were safe and mature enough to use tools. 
When summer came, we introduced fires and working with tools and the pupil really rose to the occasion every time. They were very safe and showed great leadership. Furthermore, their academic attainment began to rapidly rise at a commensurate rate and their mathematics data rose from 'well below' in spring to 'expected' by summer. The pupil's attitude in the classroom changed, especially towards harder tasks and this translated into test results as well. I'm also happy to report that the pupil is one of many success stories in the class, from academic attainment, to increases in confidence and developing a love for learning!"