Confident, empowered teachers ready to take any lesson in to nature is what Nature Friendly Schools is all about! Through our bespoke continual professional development (CPD) package, we inspire teachers to reinvigorate their lessons in natural spaces with a focus on developing pupils' resilience, engagement and wellbeing.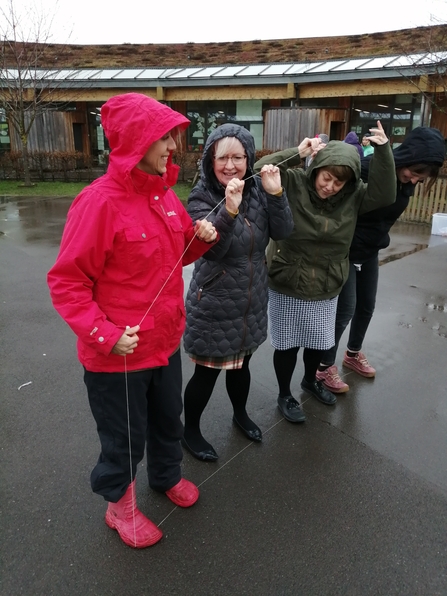 The bedrock of Nature Friendly Schools is teacher training, designed to match school progression through the project timeline to complement and contextualise onsite delivery. Nature Friendly Schools delivers a comprehensive package of training which includes a four-part CPD webinar journey developed by the Field Studies Council (FSC), a three-part programme of Academic Resilience training delivered by YoungMinds, and on-site bespoke teacher training provided by regional delivery teams.
Developed by delivery partner the Field Studies Council, our four-part CPD webinar learning journey, created specifically for this project, guides teachers through barriers to outdoor learning all the way through to achievement and reflection.
Sam Thurston, Nature Friendly Schools Officer at FSC, explains: "We developed the four CPD webinars with three key outcomes in mind - creating a space where teachers can increase their knowledge of outdoor learning, share best practice resources and sources of information and encourage the development of support networks, both locally and nationally.
"The feedback from the CPD webinars so far has been overwhelmingly positive. Teachers have shared that they really value the opportunity the CPD webinars give them to interact with others on a similar journey, to learn from each other and to take ideas away to try in their own settings".
The Nature Friendly Schools CPD model is designed to encourage teachers to self-assess their skills and confidence and plan development goals throughout their year working alongside Nature Friendly Schools staff.
Sarah Beer is a year 5 teacher at Shakespeare Primary School in in Leeds: "Since joining Nature Friendly Schools, during a pandemic, it has sometimes felt like I am working on my own, in my school bubble, not really knowing whether we are doing it right or not so the webinars were a chance to hear what others are doing, to share some good practice and to get some ideas. We are still in the very early days of Nature Friendly Schools but are having an outdoor classroom built and we have booked a residential – both funded by the project. The partnered work with Nature Friendly Schools will really begin in the autumn term."
Simon Bush is headteacher at The Green Way Academy in Hull: "The CPD sessions just made us realise how much potential we have in our grounds. The biggest barrier for us is time, but after undertaking the sessions we are going to be planning an outdoor experience at least once a week as part of the normal curriculum. As an eco-school this will suit us perfectly. So far children have enjoyed lessons more being in the fresh air and open spaces. Our SEND pupils love learning outside. Covid recovery is definitely needed among pupils."
Attended live or available to watch at a later date via the project's online community, the CPD webinars link each milestone of delivery together and set the pace and attainment measures for school progression.