Pupils to experience nature outside the classroom every half term
Academy St James was one of the first schools to sign up to the Nature Friendly Schools programme in 2019. Since then, the school has continued its outdoor learning journey with an unrivalled passion and determination.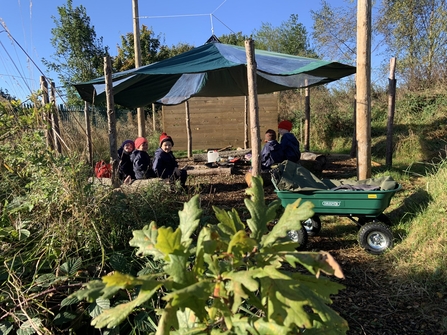 Nearly two years on, teacher Niall O'Brien, who himself is a firm advocate for outdoor learning, explains how the school is now committed to permanently embedding a visit to a local green space for every pupil, in every class, every half term.
He explains: "We will initially look to get specialist support from colleagues at Yorkshire Wildlife Trust to help us develop specific links to knowledge around local geography as well as the science curriculum. We hope that this will eventually allow every child in school will visit various places of natural beauty across the academic year. While we realise this is a huge commitment, we are incredibly keen to take on the challenge and believe it will make a huge difference to the life experiences of our children.
"We know our outdoor learning offer is strong in terms of supporting our most vulnerable pupils, that said we don't want to become complacent in our quest to educate all pupils in an outdoor environment. It is very much our vision to provide every child with regular opportunities to learn within the natural world. A visit to a different green space each term would be incredible for our pupils.
"Inspired through our time taking part in Nature Friendly Schools, our vision is that we will select six local places of natural beauty boasting amazing curriculum links. We will then look to develop a map of the site which identifies specific curriculum links and opportunities. Having the support of your organisations like the Wildlife Trusts and the Field Studies Council is huge for us."