Improving emotional literacy among pupils is a big part of Burlington Junior School's reason for wanting to be part of the Nature Friendly Schools project.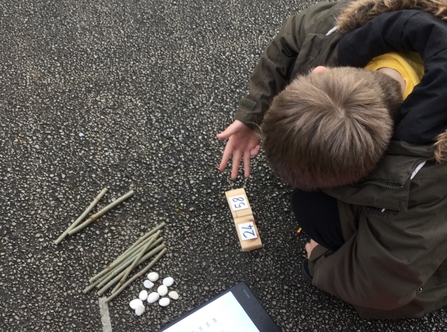 Burlington Junior School's Nature Friendly Schools journey started with the renovation of a pond on the school's grounds during the first lockdown of 2020. Three years ago the pond was given an overhaul, but unfortunately at that time outdoor learning was not high on the school's agenda and it wasn't used much. Before long it became overgrown with weeds and bushes creating a stagnant pool with very little purpose.
It wasn't until the Covid-19 lockdown in early 2020 that teachers started to look at the pond again, prompted by the school's participation in the Nature Friendly Schools project. With a renewed interest in the importance of outdoor learning, teacher Matthew Clark led a team in cleaning the pond area and made a unexpected discovery. Despite the state of the pond, it was still home to many frogs. Spurred on by this discovery, the pond was once again renovated to become a much more inviting place for pupils.
Around the same time Mr Clark undertook a senior leadership course and as part of this took on outdoor learning as a focus, including promoting it through the school and documenting its impact on pupil attainment and engagement.
As the first lockdown of 2020 came to an end, Nature Friendly Schools delivery in the school started again. A group of year four students in need of emotional literacy support and who would therefore most benefit most from the project were highlighted, but before long other year groups started to benefit from what was being learnt through the project. Many of the school's pupils come from low socio-economic backgrounds and the school has a higher than average number of pupils eligible for free school meals.
Mr Clark explains: "Some pupils don't get talk about their feelings at home, while others feel hemmed in inside a classroom. Being outdoors gives them the opportunity to think and feel and express themselves in different ways. During an outdoor learning session where children were making mandalas out of natural materials, one pupil said that their creation related to a family member that was ill. This was really powerful and shows the impact being outdoors can have on children's mental health."
Education officers from Nature Friendly Schools partner Yorkshire Wildlife Trust highlighted that while the school has great outdoor grounds but they are not being used to their full potential, so a plan of greening school grounds was put into place.
Local accessible areas such as mature woodland and beaches were also highlighted as potential sites to enable pupils to work in a diverse range of natural environments before replicating activities on school grounds. Although the school is situated in a rural area, many children are not able to access this outdoor environment outside of school.
Thanks to training and support provided by Nature Friendly Schools, and the dedication of Burlington Junior School's teachers, pupils across the whole school are now benefitting from outdoor learning and nature connectedness every week, positively impacting upon their mental health, wellbeing and learning.