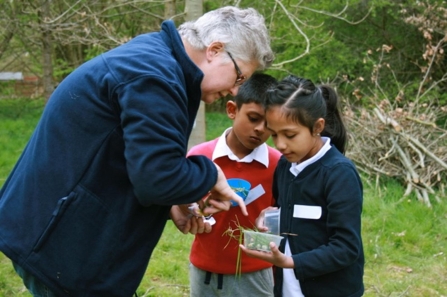 By Field Studies Council's new Partner Lead Maryanne Wills and outgoing Partner Lead Janine Maddison 
The Field Studies Council (FSC) is privileged to be involved in Nature Friendly Schools - a ground-breaking project to train, mentor and support teachers to deliver effective outdoor learning with the aim to develop care and concern for the environment, improve children and young people's mental health and wellbeing, increase attendance and improve pupil engagement with school. 
The work of FSC is underpinned by four core values;  delivering first hand experiences, providing opportunities for everyone, sustainability for the future, and a caring attitude.  We want to create a world where everyone feels connected to the environment so they can enjoy the benefits it gives and make choices that help protect it.  
FSC brings its experience of working with a broad range of learners by working with all school types across the Nature Friendly Schools project in three key areas: 
Training, Coaching & Mentoring 
FSC has years of experience in supporting teachers through training, coaching and mentoring in the outdoors. It has developed a series of webinar training sessions for teachers and provides an opportunity to share ideas and experiences, build a teacher support network and a chance for reflection.  
FSC will support the project through embedding a 'Share, Learn, Improve' strategy. Using reflection, evaluation tools, focus groups and targeted enhanced interventions FSC will endeavour to support schools in their overall journey of progression.
FSC will offer supported residential visits for a proportion of schools within the project, these residentials will offer a unique experience for pupils and teachers to spend extended time together completing new experiences in the outdoors. 
FSC's identification guides will be supplied to all schools participating in Nature Friendly Schools. This will mean that all schools will have tools to help interpret the environment around them.