Pupils step out of their comfort zone to overcome challenges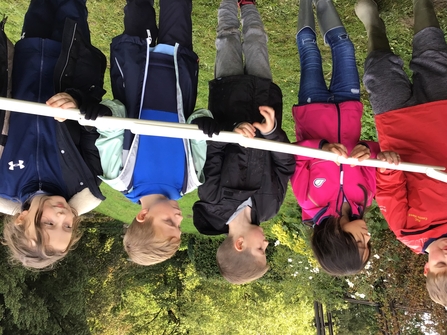 Pupils from St Cecilia's Catholic Junior School are among the latest to benefit from a residential trip thanks to the Nature Friendly Schools project.
The Nature Friendly Schools residential to FSC's Castle Head site in Cumbria last month was the first time the school had considered a trip at the start of the school year. It was also a different location to their usual residential trips so offered pupils the opportunity to visit somewhere different, especially after experiencing lockdown.
Teacher Nathan Hughes explained: "Having a residential at the start of the year was a new experience for us and gave children and staff a chance to bond and challenge each other early on in the school year. The trip will be referred to throughout the rest of the year and can be used to inspire activities for the curriculum.
"When we announced the trip, children and parents were initially very excited, but many parents were also nervous because they thought their children would be homesick or would be unprepared for staying away from home due to Covid restrictions.
"They needn't have worried though. When we arrived at Castle Head, pupils were very excited and keen to explore the site and see their rooms. They were in awe of the environment and were chatting excitedly about what may happen."
The residential focussed on teamwork activities, but also included nature-based activities such as setting mammal traps, fireside activities, starting fires and building shelters.
Nathan added: "The children all enjoyed the variety of team building activities on offer, but they particularly enjoyed the maze. It really challenged them to communicate with one another. It brought out the leader in one particular child who would normally be a little quieter. Other children appreciated the child's opinions and instructions and could see it working which brought about much excitement. Staff were surprised by some of the results. We could see children step up to the task who perhaps weren't as academic as others.
"It was a good opportunity for building pupil resilience as they were very much taken out of their comfort zone. One boy in particular was terrified of climbing a hill after dark to reach a fireside activity. He stayed near an adult and was talking through his fears. I genuinely didn't think he would make it up the hill, but he was delighted when he got to the top. He said that he didn't know he could do things like that. Speaking the next day, he was very pleased with himself. He was still a little unsure whether he would do it again but knew he would be more confident next time.
"Children who initially found it difficult to look after themselves found ways to overcome challenges. They were proud of themselves for staying overnight, despite feeling homesick and said they would look forward to other trips away from home knowing that they can do it. The trip was vital for children overcoming Covid too. They have become very nervous due to the pandemic and the trip reminded us all of the importance of nature in our lives and sharing with one another."